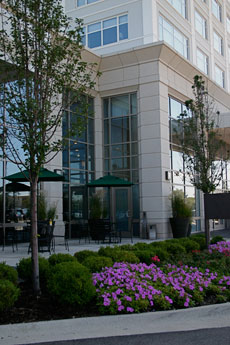 Charlotte Commercial Lawn Care & Charlotte Grounds Management
Carolinas Landscape Management is a leader in providing Charlotte with the finest and most comprehensive landscaping services in turf and grounds management. From Homeowner's Associations to Office Parks to Townhomes and Condominiums, our professional staff offers a complete set of landscape design, installation and maintenance services. For the best landscaping in Charlotte, contact us today!
The key to protecting your commercial property is proper maintenance. At Carolinas Landscape Management, our expert staff provides only the best in landscaping services, including lawn care and chemical maintenance tailored to your property's unique needs. We offer everything from mowing and edging lawn car to applying chemical treatments, shrub maintenance, tree pruning, snow removal and grounds management. Your customers' first impression of your commercial property should be one of quality and prestige. Let us help you keep yours looking beautiful and refined for every season!
Commercial Landscaping Services Charlotte
When it comes to the landscape of your office or business, you want your property looking pristine. The landscaping and lawn that surrounds your office or business property is your first impression that business prospects see, and look can play a big part when attracting a customer or client. At Carolinas Landscape Management, we understand that the landscape needs of businesses and commercial properties require a differnt type of attention and maintenance compared to the residential lawn. We are a leader in designing and creating commercial landscapes for businesses and properties and can accommodate almost any landscape needs regardless of size and space. Carolinas Landscape Management's team of landscape professionals have an array of tools and experience at our disposal. From simple lawn care to elaborate colorful landscaping displays, let Carolinas Landscape Management design, build and maintain your commercial landscaping project.

Quality Lawn Care
We have been in Commercial Lawn Care for many years and are providing exceptional landscaping services to residential and commercial customers throughout the Charlotte metro area.